Asahikawa ramen
One of Hokkaido's Big Three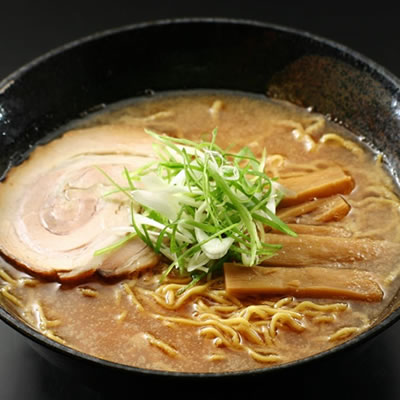 Asahikawa ramen refers to a shoyu (soy sauce) based ramen dish eaten in Asahikawa City in Hokkaido Prefecture which is characterized by its blended, "double" soup and medium-thick, wavy noodles with a low water content.
In Hokkaido, Asahikawa is a a local ramen brand, as well-known for its shoyu soup as Sapporo is for miso and Hakodate for shio (salt).
The double soup combines seafood stock from fresh fish caught in Hokkaido, and pork stock with roots in the traditional pork farming culture of the region.
It is said that the combined soup is not as strong as pure pork-based broths, with the aromas of kombu (seaweed) and dried fish helping to temper the flavor of the pork.
There is some debate but it is thought that the dish is over 70 years old, and Asahikawa ramen is now recognized both domestically and internationally as one of Japan's classic ramen flavors.
協力企業:有限会社ハレルヤイズム
協賛企業:一般財団法人 日本ラーメン協会